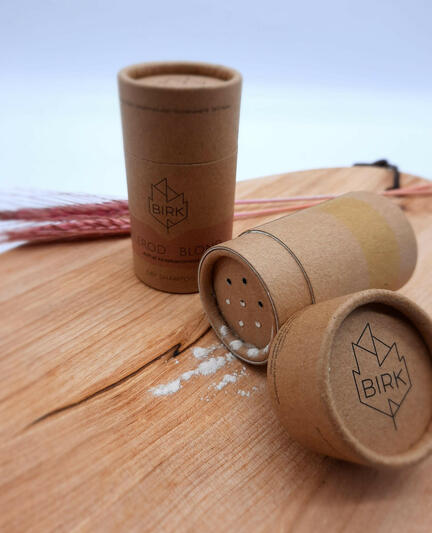 Pilerod Dryshampoo
Blond med duft
€ 9,28
Dryshampoo, without plastic and aerosols, a hair powder with natural ingredients.

Do you also like to skip a wash? Here is the help that easily lifts the hair and absorbs the natural sebum at the hair roots. That way, you can manage one more day, without washing your hair.
Use a brush for application, Try this here

With fresh and sweet scent of Cherry Blossom, or without scent.
Tips
It is a very fine powder, it is therefore not recommended to be wearing resp. dark/light clothing during application.
NOTE It is not the kind that stiffens the hair, which allows you to toupee for extra fullness. < / p>
Application: dip your fingertips and spread the powder at the roots. Use a hairbrush or fingers to get it properly distributed throughout the hair. You can also use a makeup brush, as the product can dry out your hands.
It will last you long and excessive use can give dusty hair - so apply a little at a time.
Recommended: For light-oily hair, between washes. Dark is good for the brown and reddish hair. Blonde is good for medium blonde and blonde hair.
** Dark can vary in color as the ingredients do not come from the same batch every time * *
Consistency: powder
Storage: dry, not direct sunlight
Size: 40 g.
Packaging: glass with aluminum lid.
Fragrance: None or Cherry Blossom
Ingredients Dark : Arrowroot Powder, Pastel Pink Superfine Australian Clay, Bentonite Clay, Zeolite Clay
Ingredients Blond : Arrowroot Powder, Bentonite Clay, French Pink clay, zeolite clay
Cherry blossom fragrance: perfume, (Allergens: methylenedioxyphenyl methylpropanal, cyclamen aldehyde, geranyl acetate, hexyl salicylate, alpha-isomethyl ionone, butylphenyl methylpropional, linalool, tetramethyl acetyloctahydronaphthalenes)